Olivet College to host workshops by world renowned artist Jim Hay
Hello from Jim Hay. I am coming to Olivet College in Michigan with 2 brand new cloth workshops. Both workshops are good for beginners to advanced. They are very different from each other. Come for 1 or 2 or both (double your fun).
1: A Song For You
I chose a longtime favorite song that tells a simple story with rich visual imagery. The unusual rhythm weaves together love, rejection and hope. Let' s use cloth to express your ideas and make this rhythm visible. This song is pure genius. I am excited to see what you will do.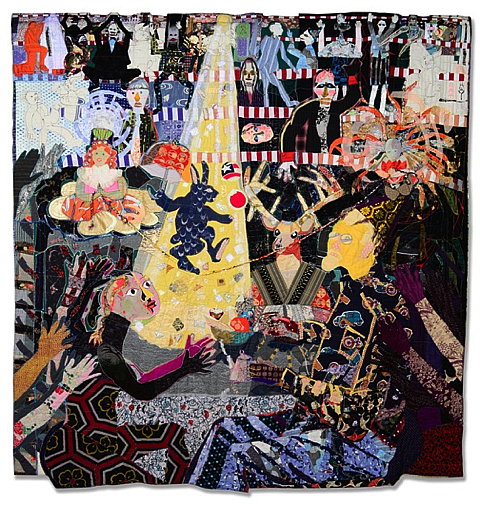 "Tightrope" jimhay©2015
Materials: Bring some 28" X 28" cotton cloth for background. Bring more cloth to help suggest light, dark, simple, complex, even patterns of rhythm. Scissors, pinking shears, thread, glue sticks, pins, sewing machine.
2: Transformation
Our world has many species, from tiny shrimp to giant Redwoods, plus objects from simple clothespins to orbiting satellites. Let's explore that amazing diversity. We will start with a QUICK magazine paper collage to get ideas flowing and then expand to cloth.
Materials: Medium size drawing paper for the collage. Some picture magazines (fashion, travel, garden, car, whatever) to cut up for the collage.
Good scissors, pinking sheers, straight pins, glue sticks, iron. Some 28" x 28" cotton cloth for background, bag full of wide ranging cloth pieces: cotton, silk, lace, solid colors, plaids, floral, cloth with words and images, netting, sparkly cloth, even pieces cut from clean t-shirts, sewing machine, preferably with zig-zag ability, extra bobbins plus colored threads.
Olivet College is hosting two quilters' workshops
Both events take place on campus and are open to the public.
There will be two 1-½ day workshops:
Thursday, Sept 7 (9 a.m. to 4 p.m.) and Friday, Sept. 8 (10 a.m. to 2 p.m.) and
Saturday, Sept. 9 (9 a.m. to 4 p.m.) and Sunday, Sept.10 (10 a.m. to 2 p.m.).
The cost is $100 for a single workshop (two days) or $180 for both workshops (four days). Please register as soon as possible to be sure of a space.
For more information about Hay' s workshops or to register, contact Marty Jennings, director of alumni engagement, at (269) 749-7644 or alumnirelations@olivetcollege.edu.
"These workshops will open doors to your personal creativity," Hay said. "Each person's artwork will be an individual expression; your artistic vision, your interpretation of a subject, your use of materials. Making art is a path to awareness, a finding out of who you are as an individual connected to all."
An award-winning artist who currently lives and works in Japan, Hay has exhibited his art across the globe in countries including China, Korea, Taiwan, England, Ireland, Australia as well as Japan and the United States. He was professor of sculpture and drawing at Olivet College from 1968-82 and earned a Master of Fine Arts with high honors from Michigan State University. To view his work, follow the links below.